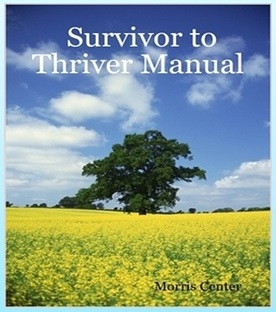 The Transformative Journey from Victim, to Survivor, to Thriver

The Survivor to Thriver manual is an essential guidebook for Adult Children of a BPD Parent, as well as for any survivor of physical, sexual and/or emotional child abuse or neglect. It is the foundation of our Adult Children of a BPD Parent community.
When recovering from an abusive childhood, the process of healing can be a challenge. Survivor to Thriver Manual uses a 21-step healing process based on the principle that recovery occurs in small, steady steps taken one after another.

This manual defines the types of abuse that many children of BPD parents may have experienced and provides a step-by-step process for recovering from each type of abuse. Using engaging and guiding questions, the reader is guided through the different stages of healing: Remembering, Mourning and Healing.
The 21 Steps are a statement of the tasks and issues that most adult survivors face during their recovery from child abuse.

This 115 page manual is free to BPDFamily.com members.


Morris Foundation A non-profit 501(c)(3) public benefit corporation, the Morris Foundation was founded in 1991.

The center focused its resources on supporting the Adult Survivors of Incest Foundation (ASIF) to provide individual and group sliding scale psychotherapy and low-cost educational and self-help programs for adult survivors of sexual abuse.

In November 1993 the Morris Foundation was changed to The Norma J. Morris Center for healing from child abuse. This changed reflected the fact that its programs had expanded to serve survivors of physical and emotional, as well as sexual, abuse, and to honor the organization's cofounder and principal benefactor, Norma Morris.

In 1994, perceiving an increased need for cost-effective, easily replicable programs, The Norma J. Morris Center shifted its resources to supporting the Adult Survivors of Childhood Abuse (ASCA) support program and discontinued its psychotherapy program. ASCA began to take shape when George J. Bilotta, Ph.D., The Norma J. Morris Center's Executive Director, asked J. Patrick Gannon, Ph.D., to develop his ideas for a "second generation" self-help group for adult survivors of child abuse. This edition of the Survivor to Thriver manual is an updated and expanded edition of Dr. Gannon's book: Soul Survivors: A New Beginning for Adults Abused as Children along with additional material from our unpublished manual The ASCA Workbook.

In February, 1993, the ASCA Leadership Council, composed of volunteers interested in developing the new program, started to create the Stage One meeting format, program guidelines and Co-Secretary responsibilities. The first ASCA meeting was held in May 1993, in San Francisco. ASCA has continued to evolve and has become a powerful and effective support program for adult survivors of child abuse.

In September 1999, The Norma J. Morris Center began to promote the ASCA program nationally through the World Wide Web. It is our desire and hope that through this efficient and cost effective avenue, ASCA will become available to survivors of child abuse throughout the country.


# Paperback: 115 pages
# Publisher: Morris Center (November 30, 2006)
# Language: English
# ASIN: B005D3SRHW